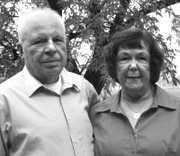 Linn and Mary Jane McBride of Sunnyside will celebrate 50 years of marriage at an open house planned in the couple's honor this coming Saturday, Dec. 4.
The couple was married Dec. 1, 1960 in Yakima and has lived in the Sunnyside area for more than 60 years.
Mr. McBride is a retired teacher and taught at Chief Kamiakin Elementary School in Sunnyside.
Mrs. McBride retired from her work as a school secretary at Outlook Elementary School.
Saturday's anniversary celebration will take place from 1 to 4 p.m. at Sunnyside's Free Methodist Church. The couple's children, Kristi and Mike McBride, are hosting the event.