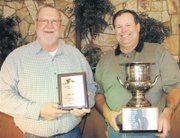 GRANDVIEW - Earlier this month, at the Washington Grape Society's annual meeting, two Grandview men were recognized for their contributions to the industry.
Tim Grow, a fourth generation grape grower, was presented the Walter J. Clore award. Also honored at the meeting was Larry Marchant, owner of Marchant Ladders. He was named grower of the year.
The award Grow was presented is given to growers, organizations or individuals in the grape industry "who have contributed to the well-being of the industry."
The Walter J. Clore award was one of the first awards presented by the society in the early 1970s, and the first recipient was Walter J. Clore.
Grow began farming 312 acres of land near Grandview in 1981. He grows 175 acres of Concord grapes and about five acres of Niagra grapes, as well as other crops.
He has been a member of National Grape 36 years and served on the board of directors for the past nine years. He has also been a member of the Welch's board for the past five years. He had his first grape contract as a teenager.
Grow's father, Ron, has also been a recipient of the Walter J. Clore award.
"I was telling someone I am very honored...I have worked with and known most of the local growers who are great men. It goes without saying how honored I am to have earned this recognition like my father," said Grow.