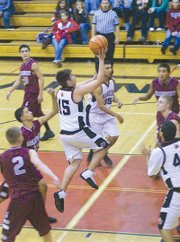 Hoop fans were treated to two nail-biting contests last night, Tuesday, as the host Sunnyside Grizzly boys basketball team competed well before losing two jamboree games.
The contests don't count on Sunnyside's regular season record because each game was split between the A and B teams.
In the first game last night, a 35-31 loss to Grandview, the Grizzly B team trailed their Greyhound counterparts 20-14 at the half.
In the second half, Sunnyside's A team made up the deficit and tied the contest at 31-31 in the final minutes.
Grandview came back with a free throw and a late three-point bucket to earn the win.
Jessie Leija and Arnold Brambila led Sunnyside with six points each, and Trey Serl added five points for the Grizzlies.
"Our defense was pretty good at times and we rebounded pretty strong for most of the game," Grizzly Coach Ron Rowe said of his team's effort.
The nightcap also came down to the final seconds, as Sunnyside Christian prevailed 28-25 over Sunnyside.
The two teams' respective B squads were tied 13-13 at the half, and the contest remained tight from there.
With the score tied 25-25, Sunnyside had two opportunities in the final seconds to win the game.
The first chance resulted in a missed shot attempt. On the second, Sunnyside Christian stole the ball and went the other way for a breakaway lay-up. Sunnyside fouled on the shot attempt, giving the Knights a deciding three-point play with about five seconds left.
"We had a mix-up in our sets and they got a steal and scored," Rowe said of the game's pivotal moment.
Cody Fernandez scored six points to lead Sunnyside.
Despite the two close losses, Rowe said the jamboree was a good experience for his players.
"We moved the ball well offensively at times," he said. "We have a lot of players that are getting a feel of the offense."
Rowe said the jamboree was helpful in giving his team experience playing under pressure late in close games.
In addition, the differing style of play between Sunnyside Christian and Grandview will help the Grizzlies prepare for regular season play.
"Sunnyside Christian has two big post guys, and that gives us practice to play opponents in our league," Rowe said. "Grandview plays a perimeter drive type of game. We had to make an adjustment in playing styles."
The coach added, "It was a good learning experience, that's what a jamboree is for."
Sunnyside opens regular season play this coming Friday at home against Eisenhower in a non-league game. Tip-off is at 7:30 p.m.