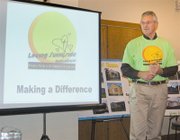 The vision for the Loving Sunnyside Initiative is simple. Bring change to the Sunnyside community through love as well as developing a community that loves the Lord and Savior Jesus Christ while working to further God's kingdom.
That was the message delivered to the Sunnyside Noon Rotary Club this past Monday by Leroy Werkhoven, a board member of the Loving Sunnyside Initiative.
The group is part of Sunnyside Transformation, a movement that began in Sunnyside a few years ago.
Werkhoven said the Loving Sunnyside Initiative was started after hearing complaints about the community.
Werkhoven's question to the complainers was, "What are you doing about it?"
The group's mission is to assist low-income individuals or families in the greater Sunnyside area by enhancing their homes through painting and yard clean-up. So far, the Loving Sunnyside Initiative has helped 29 families.
"If you happen to live next to one of these houses, you can appreciate it even more," Werkhoven said.
With volunteers and donations the Sunnyside Loving Initiative group goes out to people's houses and transforms the buildings in a matter of hours.
Werkhoven said there are a couple of members on the board that love to ride bikes. During these bike rides houses that are in disrepair are indentified and then the owner is contacted.
There are a few rules. Werkhoven said the Sunnyside Loving Initiative targets houses that are owned by the inhabitants. The owner must be in a position where they cannot pay for the needed upgrades, are handicapped or are prohibited from doing the work because of age.
The cost of each project is approximately $500, which includes the supplies and food for the volunteers. Werkhoven said the Loving Sunnyside Initiative has done one rental for a person who had lived in the house for years. Members from Loving Sunnyside Initiative did get the owner of the home to knock off $500 from the rent, however.
The group tackles the home in the early morning and strips the old paint off and then repaints the entire house. Landscaping and yard work is also performed. Werkhoven said since the project began the Loving Sunnyside Initiative has hauled away three tons of materials.
Loving Sunnyside Initiative volunteers perform the work four times a year, twice in the fall and twice in the spring. The next clean-up is scheduled for April 16, 2011.
Volunteers are always needed, as well as supplies. To donate paint or time, Werkhoven can be reached at 1-509-952-5650.