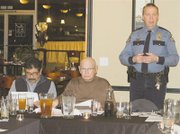 The number of auto thefts in Sunnyside is down 40 percent compared to this point last year (from 121 to 71) and vehicle prowls have been cut in half (from 103 to 50).
That was some of the good news from year-to-date crime activity reported this week by Sunnyside Police Chief Radder.
Speaking on Monday night to a joint meeting of the Sunnyside School Board, city council and port district, Radder noted financial grants have helped lower the auto theft rate here.
He said the police department recently started using a new county-wide system in which all law enforcement agencies in the county share information.
Sharing information, Radder noted, will help officers around the valley keep criminals from simply relocating from one city to another.
Graffiti violations also showed a marked drop of 47 percent (from 66 to 35).
Progress was also shown in forced entry burglaries in non-residential buildings, as that number is down from 34 to 11.
Another significant improvement year to date is an 18 percent decrease in gang-related activity (from 60 to 49 incidents).
At the same time, though, Radder noted there has been an increase in juvenile problems (from 250 to 321), which may or may not be gang related.
In other comments related to gang activities, the Sunnyside School District noted the number of students referred for gang activities is dropping. There have been 61 students referred so far this school year, compared to 84 at this point in 2009 and 131 in 2008.
The discussion generated an idea to in the future obtain data showing how many individuals are actually responsible for crimes being committed.
For example, Superintendent Dr. Rick Cole noted there are about 200 students in the district with gang ties out of a total enrollment of more than 6,000.
The crime statistics presented by Radder showed some challenges ahead, though.
Though overall crime totals are down from this point last year, Radder noted 2010 has been a "rough year for homicides," as the number is six compared to one in 2009.
Other challenges this year have included animal problems rising from 594 to 703 and weapons offenses from 107 to 176.
In addition, property theft (including shoplifting) is up by nearly 30 percent (from 94 to 120) and DUI stops are up 50 percent (from 87 to 132).
In other data, the number of controlled substance and marijuana possession incidents spiked from 41 to 74.
There's some good news in those numbers, though, as it was noted the new K-9 unit is making it easier for officers to track those offenders.
By the time 2010 wraps up, Radder estimates his department will have fielded 12,000 calls for service.