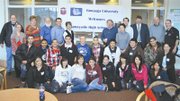 The partnership between Sunnyside High School and Gonzaga University has strengthened and benefits are emerging for students at both schools.
Eighteen Sunnyside High School students took a Nov. 11 trip to Gonzaga University where they got a taste of college life and gave many Gonzaga students the opportunity to learn about Sunnyside students.
The trip was a result of the collaboration agreement between the two schools and intended to provide students from both schools a unique educational experience.
Sunnyside High School teacher Stacy Alseth was one of four teachers who joined the students at Gonzaga University. She revealed that many students who went on the trip had never been out of the Yakima Valley, much less to Spokane.
Dr. Chuck Salina, Sunnyside High School's principal and assistant Professor at Gonzaga University, said the students selected for the trip had unique and challenging backgrounds, and had struggled with their academics.
The purpose of the trip was to give the high school and college students an opportunity to learn from each other. Students from Gonzaga University's education program interviewed the Sunnyside students to discover how, as future educators, they can establish the meaningful connections that will lead their students to success.
Sunnyside High School seniors Maria Ruiz and Fabiola Contreras both attended the trip, and both recognized that their goals were to teach Gonzaga students about the struggles of being a teenager in the Lower Yakima Valley.
Contreras said she discovered that many students in the education program don't always understand what it means to be a good teacher.
"Teachers don't actually know what they're going into," Contreras said. "When they're ready to teach, they think they just go teach."
But Contreras and Ruiz both said the message they spread to the Gonzaga students was that making connections with students was the best way to reach their students.
"You have got to learn to trust in your students and students will learn to trust in you," Ruiz said.
Salina said that many Gonzaga students were so inspired and moved by the visit, they were already looking to student teach at the Sunnyside School District.
As for the Sunnyside High School students, Alseth and Salina said they were pleased to see their students take an interest in higher education.
"Just looking around the room, you could see dreams starting," Alseth said. She added that many of the students who attended the trip had never really considered college, but the Gonzaga trip made higher education appear tangible and achievable to many of them.
Both Ruiz and Contreras concurred and both young ladies are looking at area colleges to further their education after high school.
"It [the trip] made me think, I could do this, too. I believe in myself a lot more," Ruiz revealed.
"Before, I wasn't really interested in college," added Contreras, "Now, I'm thinking of going to YVCC.