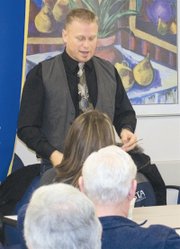 At a glance, the issues of gangs and sex trafficking would appear to be two different problems.
But they are actually quite connected in the criminal gang culture in Sunnyside and the Lower Valley.
That's according to Mark Baysinger, director of Sunnyside's Promise, who spoke this past Wednesday morning to the Sunnyside Daybreak Rotary Club.
Baysinger said sex trafficking includes the practice of "sexing" girls in and out of the gangs.
In addition, he said there are instances where girls are traded for drugs. He noted one example of an 11-year-old girl in Sunnyside who was traded for drugs and returned the next day.
These concerns prompted Baysinger and Sunnyside's Promise to seek a state grant.
The non-profit agency was one of three finalists, along with two groups from Seattle, competing for the grant award.
Baysinger said he wasn't confident about Sunnyside's chances given the other two agencies were from Seattle and its much larger population base.
Even so, Sunnyside was declared the recipient of the grant award to help tackle the sex trafficking issue.
The selection of Sunnyside's Promise, Baysinger noted, included officials from Olympia visiting here firsthand to see the issues and efforts underway in Sunnyside.
Baysinger noted his agency is working in cooperation with Comprehensive Mental Health, Consejo, law enforcement and Lower Valley Crisis and Support Services to better understand the depth of the sex trafficking problem.
The grant will focus on combating sex trafficking just in Sunnyside.
Baysinger said that's because the city has a "perfect storm" of poverty, low educaton rates, undocumented residents and Spanish mono-lingual parents that are not connected with the school district.
He says the situation is made worse because victims of sex trafficking are afraid to speak out about it.
"There are no quick fixes," Baysinger said.