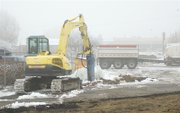 Though an error required recently poured concrete to be ripped up, construction at Sunnyside High School is still on target.
That's according to Curtis Campbell, the school district's spokesperson.
Campbell said the miscue happened when a contractor used the wrong material in preparation for pouring footers for a two-story addition to the school.
Dick Loofburrow's Yakima-based firm designed the new construction, and he says the error was discovered by an engineer with his company.
"We were fairly fortunate," Loofburrow said, noting had the mistake gone unnoticed it could have potentially led to some significant settling of the building.
Loofburrow said instead of applying a geo-textile fabric for support before pouring the footers, the contractor applied one that's used for drainage.
"Because of sensitive soils in the Sunnyside area you have to use fabric that helps with structural integrity," he said.
Loofburrow praised the school district for making sure the project is done right at the beginning. He also praised the contractor for handling the issue and being willing to start over with new footings.
"It's a mistake the contractor probably won't make again," he said.
The additional work will be done at no cost to the Sunnyside School District.
Campbell says the mistake put the contractor a few weeks behind. However, according to the construction agreement, he said the contractor will still have to ensure the project meets completion deadlines.
"They will make up time somehow, working longer hours or more days," he said. "Our overall timeline won't be behind, we'll still have it complete by August 2012.