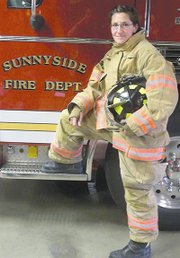 As one of the Sunnyside Fire Department's newest recruits, Holly van Schaick can officially say her dream job found her.
This past summer, van Schaick was working for Yakima Advanced Life Systems as a paramedic, but she really wanted to put her years of EMT education and firefighting training to use.
Then Sunnyside came calling. They pulled her scores off the National Testing Network, a database of resumes and applications for various job positions in public service.
Van Schaick used the website to find her position with Yakima Advanced Life Systems, but she was not actively seeking a new job when Sunnyside expressed interest.
But what Sunnyside offered van Schaick was too much for her to ignore.
"They offered me a job and I really wanted to work for a combination department," she said, noting that a combination department is a mix of career and volunteer firefighters.
"I was a volunteer for a combination department...it's an environment I really like."
Van Schaick lives in Kitsap County with her husband and kids, but making the commute for her nine, 24 hours shifts a month is well worth it for this mother of four.
It has been three years since van Schaick started her journey toward this career. She says she always knew that she wanted a job that allowed her to help people, but for several years she elected to help her family as a stay-at-home mother.
When she was ready to re-enter the workforce, van Schaick attended Tacoma Community College and completed their paramedic program last June. She had completed fire academy the year before. The training was there, the right job was a bit more elusive.
The opportunities to work as a paramedic or to volunteer as a firefighter were there, but Sunnyside was the first that allowed her to combine both.
Van Schaick has the distinction of being the Sunnyside Fire Department's first female firefighter.
"I am aware I'm the first woman," she acknowledges, "but the guys on my shift have been just awesome...they're great teachers."
Coming to the new station, van Schaick says that there is still a lot to learn about the way the department works, but everybody is ready to help her along and learn everything she needs to know to succeed at the Sunnyside station.
As for her family, van Schaick says they could not be more thrilled at her new career. She says it is a good feeling that she can be a positive role model for her five-year-old son and three daughters.
"They're enthusiastic," she says. "It doesn't worry them. And I think it's nice that my daughters get to see that your gender does not restrict your job options."
Van Schaick says her first year at the department is all about being focused. She has a lot to learn and she is eager to learn it.