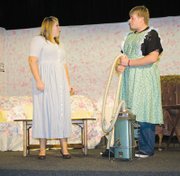 GRANDVIEW - The Grandview High School Drama Club's latest production, "The Family Man," is set to debut next Thursday, Dec. 9, at A.H. Smith Elementary School.
The comedic drama written by Benjamin Zavin and Carl Leo is set in the 1950s. A middle-aged couple must make adjustments after the husband, Bill (Sawyer Schilperoort), suffers a broken leg.
He was a star athlete in both high school and college and broke his leg after behaving as if he is still as nimble and athletically adept as those glory years.
Bill's broken leg, says Dr. Hartnet, portrayed by Kaelan Clute, requires six months of recuperation.
The bills begin to pile up and Bill's wife, Ellen (Briana Biggs) decides she will have to enter the workforce.
"It turns out she's a great business woman and he's a great house husband," said the production's director, Melanie Manship.
She said Bill is great at entertaining and enters a cooking contest. He wins the contest with a recipe for his Scotch Fancies, and a production crew arrives at the home of Bill and Ellen. The prize is a substantial $50,000.
"But, he entered the contest under his wife's name," Manship reveals.
Ellen refuses to have anything to do with the filming of a segment the production crew has arrived to shoot. So, Bill has to confess and the crew becomes displeased with the turn of events.
One member of the crew, however, decides there may be an angle that can be exploited.
As the comedic twists continue, there is a sudden outbreak of broken bones among the men of the neighborhood...hmmm.
"The Family Man" is certain to entertain audiences, but caution is advised. Some parents may wish to leave the younger children at home due to language content specific to the 1950s.
Also cast in the production are Milagro Castilleja as Ellen's brother; Sonia Orozco, Katie Luper, Dani Charvet and Jenalee Mariotti as the PTA members; Roger is portrayed by Harley Hurst and Brendon Lynch is Walter the Reporter. Brett Harris is cast in several roles.
The curtain rises at 7 p.m. Thursday and again Friday, Dec. 10. Saturday, Dec. 11, a matinee showing is set for 1 p.m.
Tickets cost $6 for adults and $3 for students and seniors. Children 6 and under will be admitted free.