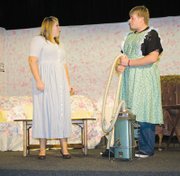 A broken water pipe is the culprit behind an interruption of services this week at Sunnyside Community Hospital.
Tom Lathen is the hospital's spokesman, and he said a water pipe on the roof broke this past Friday. He said the break happened Friday afternoon, leaking about 100 gallons of water into a supply room.
He said the hospital is still trying to determine the cause of the break, which caused water to seep down from the 36-year-old roof.
The leak caused a disruption to hospital services.
"Staff in the hospital and physician offices have worked to reschedule surgeries that were postponed due to the leak," Lathen said. "The hospital has been on divert status since the leak was discovered so no emergency surgeries are involved."
He explained "divert status" means ambulance and fire department personnel don't deliver patients to the hospital and instead take them to other hospitals.
Lathen noted the hospital can still perform emergency C-sections in an auxiliary operating room near the Family Birth Center.
Despite diverting patients elsewhere this week, Lathen said no Sunnyside Community Hospital employees lost work time because of the disruption.
"We're finding work for everybody to do," he said. "No employee will lose pay because of this. That's good news during this time of year."
He said clean-up and repair of the leak began immediately and is expected to wrap up in time to resume surgeries next Monday.
Lathen added that Fulcrum Environmental Consulting of Yakima will conduct an environmental review prior to re-opening for surgery.
Water damage, as well as repairs to the hospital's supply room and water system will be covered by insurance, Lathen said.
A dollar figure for the loss has not yet been established.