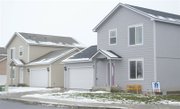 Over the past five years Catholic Charities Housing Services has been providing low income families with homes of their own.
Isabel Garcia, single family housing program manager, said the families must meet specified criteria to qualify for a home. One of the requirements is sweat equity.
"We begin building a home when we have a program pre-qualified applicant," she said.
Garcia said a home is not constructed until the family completes a homebuyer group education class and extensive one-on-one housing counseling sessions on budgeting, financing, pre-purchase, affordability, foreclosure prevention and community involvement.
Catholic Charities Housing Services has completed all but four homes in Mabton's New Life Villas, the first project of the program in Mabton, Sunnyside and Grandview.
Another project, located at Beckner Alley and McClain Road, in Sunnyside is also nearly finished. A total of 12 homes were constructed and landscaping is the last step in the process, according to Garcia.
The projects in Sunnyside and Mabton have provided homes for 37 families so far, she said.
Another project is planned for Grandview. Construction of 18 homes near Pleasant Avenue is slated to begin next March.
The floor plans for the homes in Grandview are expected to include two stories and two-car garages. There will be three and four-bedrooms, depending on the floor plan, according to Garcia.
"Our single family projects have a positive impact on the communities we serve because we build safe, quality and affordable homes," she said.
The Sunnyside project began September 2009. But, it is one of several projects Catholic Charities Housing Services has worked on in the city.
The organization also has completed several multi-family residences on South 16th Street and Sheller Road.
Providing affordable housing for the local communities has been the goal of Catholic Charities Housing Services, and the organization feels the projects have served Lower Valley communities where there was a need, said Garcia.
The organization has also seen in Mabton the need for a park. Garcia said Laura Armstrong, a Jesuit volunteer, is working with the community on park planning and development.
The park will contain various amenities, including playground equipment, Armstrong said.
"The park will be donated to the city of Mabton after completion by summer 2011," said Garcia.