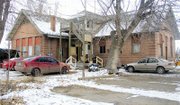 Yakima County Sheriff's deputies are still looking for suspects in a shooting that happened on Saturday.
Deputies say a 39-year-old man was shot multiple times at an apartment building at 6511 Van Belle Road north of Sunnyside at 9:17 p.m. on Saturday.
According to a press release issued by the Yakima County Sheriff's Office, the victim's wife said two Hispanic males came to the door and asked for the man of the house. The wife said she heard her husband fighting with the suspects before several gunshots were fired. The suspects left in an unknown fashion, according to the report.
When deputies arrived they found the victim lying in the entry way to the apartment. He was transported to Yakima Regional Hospital in critical condition. He is expected to recover.
There are no suspects at this time. The sheriff's office refused to say if this incident was gang related or not.