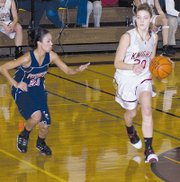 Despite some less than spectacular shooting numbers, the Sunnyside Christian High School girls basketball team opened the 2010-11 season last Friday with a convincing 49-25 win against the visiting Liberty Christian Patriots.
Sunnyside Christian connected on just 31 percent of its two-point shots (15-for-48), going just 11-for-33 from directly under the hoop. The Lady Knights' post players, said SCHS Coach Al Smeenk, had lots of good looks from inside the paint, but more often than not the shots wouldn't drop.
"We were a little nervous," Smeenk said of his post players.
"And, Liberty Christian bumped us around a little when we touched the ball down low.
"We'll be using a football pad in practice this week so the girls can get used to being bumped," he said.
One of the three big girls for Sunnyside Christian did find her shooting touch after intermission, however. Marisa Broersma pumped in eight of her game-high 13 points in the third quarter to break open what had been a slim four-point halftime lead for the Lady Knights. Along with a five-point effort by Mikayla Morrow in the third stanza, Sunnyside Christian outscored the visitors 15-4 in the period.
Sunnyside Christian closed out the game with a 15-6 run in the final quarter to subdue the Patriots.
The Lady Knights' strengths last Friday showed up from behind the 3-point arc and from the foul line. Sunnyside Christian dropped in 3-of-9 long range bombs, two by Analisa Van Oostrum and one 3-pointer off the fingertips of Alyssa Haak. From the charity stripe, Sunnyside Christian sank 10-of-14 free throws.
"We spend a lot of time on free throw shooting," said Smeenk.
Rebounding-wise, the Lady Knights edged Liberty Christian on the boards, pulling in 30 caroms to the visitors' 26. Broersma and Janelle DeGroot came away with eight and seven rebounds, respectively, for the winners.
The top scorer for 2B Liberty Christian last Friday was Hannah Croskey, who knocked down eight points.
The 1B Lady Knights were led by Broersma with 13 points, with Haak and Morrow adding eight and seven points, respectively. Also scoring for Sunnyside Christian were Van Oostrum with six points, DeGroot with five, Maddy Wavrin and Stormee Van Belle with four apiece, and Katie Long with two points.
The Lady Knights will travel to Richland later this month for another match-up with Liberty Christian.
Sunnyside Christian continues its non-league schedule with a game at 1A Naches this coming Tuesday.