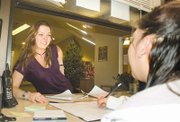 AmeriCorps VISTA volunteer Celeste Goulding has not been out of college for much more than six months, but youth belies experience when it comes to her devotion and service toward others.
Goulding confesses that she had little interest in social work before one of her college advisors directed her toward a social work class.
"Where I came from, social workers were people who came and took people's kids away," she said, but Goulding soon learned that social work has a broad range of goals and impacts lives in many positive ways.
Goulding explains that she was attracted to macro social work, meaning she liked to study the big picture. This area of social work looks at policies and legislations, examining what is working and what is not. And when something isn't working, they find ways to fix it.
By the end of her sophomore year at Pacific University, Goulding felt confident in selecting social work as her major.
Helping along with that decision was the fact that Goulding had begun working for the Center for Gender Equity at the college. She credits program director Dr. Martha Rampton for pushing her to become a campus leader. Goulding spent her final two years at college acting as a student co-director for the organization.
Goulding also helped to found Oregonians Against Trafficking Humans while in college with Multnomah County Sheriff's Deputy Keith Bickford. The organization started by these two has swept across college campuses throughout Oregon and is going strong.
But when Goulding received her Bachelor's of Arts degree in social work, she was faced with a dilemma graduates across America struggle with - finding a job.
She must have sent off 60 resumes, Goulding says. The responses were positive. People liked her resume and they'd gladly accept her as a volunteer, but budgets were too tight and funds too low to hire such a new recruit.
Goulding returned to Redmond, Ore. where she worked for her father, a custom cabinet maker, and bartended until something better came along.
A friend of Goulding, who worked for AmeriCorps, told her about the benefits of volunteering with the organization. Goulding liked the idea of working with a community to help alleviate poverty, one of AmeriCorps' primary goals, and the fact that AmeriCorps offered her a bonus at the end of her service toward paying off her school loans.
Goulding was accepted into the program and applied to organizations seeking AmeriCorps volunteers.
One of the organizations Goulding applied for was in Yakima. They had already settled on a volunteer, but recommended her to Sunnyside's Promise Director Mark Baysinger.
Goulding arrived in mid-November and was soon informed that her primary task will be acting as the Sunnyside Community Center director.
While she admits that she never expected to have this job, she is excited for what her experience can bring to the community and for what she can learn from it.
One of her first goals for the center is to establish a Youth Advisory Council.
"I want them [the children and teens] to be responsible for the programs we bring to this center," she said.
But personally, for Goulding, her major goal is to see the center establish a sustainability that will long out last her one year service to the AmeriCorps organization.