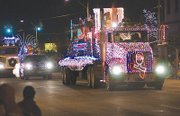 Entries for the 22nd annual Lighted Farm Implement parade were up from last year. More than 60 floats traveled down Edison Avenue last Saturday and the parade results are in.
Winning top honors for the second year in a row in the modern farm equipment and tractors category was Schab Farms, followed by RDO and Century Link.
Top honors in the old farm equipment and tractors category went to Prins Dairy. A&C Sytsma Dairy came in second and Jocob Peters and Gary Pickel claimed third place honors.
Oasis Drilling took first place honors among commercial farm equipment/vehicles, with Coca Cola claiming second place and the city of Sunnyside landing third place honors.
The Sunnyside Fire Department claimed top honors in the non-commercial organizations/service club category, followed by Critter Cab and Del's Farm and Feed.
In the antique cars and trucks category, Dennis Blumer took first place, followed by the Johnson Family and Valley Hills Funeral Home.
G.S. Long claimed first place in commercial Christmas floats, while Granite Northwest claimed second place and Burrows Tractor landed third place honors.
The city of Grandview claimed top honors among non-commercial Christmas Floats, followed by the Miss Sunnyside float and Sunnyside's Promise.
For animal drawn entries, Sunny Smile Orthodontics claimed top honors, followed by the Alder Creek Pioneer Picnic Association and Klickitat County Fair and Rodeo Association.
Sunnyside Christian FFA garnered top honors among youth entries, followed by Community Dental and Panda Bear Daycare.
Schab Farms won the Sweepstakes Award and Cliff's Septic earned the People's Choice Award.