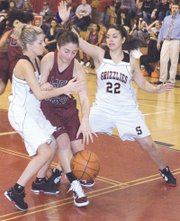 NACHES - Last night's non-league match-up between the Sunnyside Christian and Naches girls basketball teams was, quite simply, filled with bumps, bruises and a bit of spilled blood.
"It was a very physical game," confirmed Sunnyside Christian Coach Al Smeenk, who wasn't lamenting his team's gutsy 40-35 loss to the Rangers.
"No reason to be unhappy with the outcome, not when your team gives everything they've got and they've worked as hard as they can," Smeenk said.
He explained that the Naches line-up is full of 5'9" to 5'11" type players, and they all are physical.
"But we banged with them," he said. "We didn't back down one bit. We even left a little blood on the floor diving for loose balls."
The nip-and-tuck affair went right down to the wire between the two evenly matched clubs. The difference was the half-court trap the Rangers employed in the final period. The defensive ploy on the part of Naches resulted in seven turnovers that final quarter, two of which were converted into easy lay-ups in the late going. It also didn't help Sunnyside Christian's cause any that the team missed five free throws at the end, two of which came in 1-and-1 situations.
The Lady Knights opened the game by outscoring Naches 15-12. Analisa Van Oostrum tossed in 10 of her game-high 15 points in the opening quarter to power the early surge by Sunnyside Christian.
The second period Naches switched to a zone defense and the Lady Knights were only able to get off six field goal attempts, just one of them falling. That allowed the Rangers to go into halftime with a 23-22 lead.
Justine Benner, a 5'11" guard, had six of her team-high 10 points for Naches in the opening half.
Sunnyside Christian tied the game at 28-all before heading into the final period of play. The game went back-and-forth throughout the fourth quarter before Naches finally iced the win in the late going.
Shooting-wise, the Lady Knights sank 12-of-43 shots from the field. Most of the misses, however, came from behind the 3-point arc, as the team was just 3-for-16 from long range. Van Oostrum had all three of the team's 3-pointers.
Besides the 15 points Van Oostrum canned, Sunnyside Christian got an eight-point effort from Alyssa Haak and another six points from Marisa Broersma. Maddy Wavrin and Janelle DeGroot tacked on another six points between them in the losing cause.
Sunnyside Christian outboarded the host Rangers by a 30 to 28 margin. Broersma led the Lady Knights' rebounding efforts by scraping down a team-high seven caroms from the glass.
Sunnyside Christian (1-1) is scheduled to host the Riverside Christian Crusaders this coming Friday, then will travel to Mabton for yet another non-league game on Saturday.