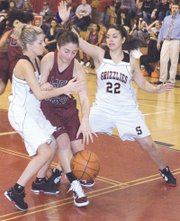 The Grandview and Sunnyside girls basketball teams met last night at Sunnyside High School in a mid-valley show down with the Greyhounds using a big first quarter run to key their first win of the season.
Grandview won the game 66-43.
"We came out sluggish to start the game and gave the ball away a couple of times," Sunnyside Coach Rick Puente said. "Grandview went on a 12-0 run and that really put us on our heels."
Grandview Coach Paul Van Pelt said the key to his team's success last night was its 1-2-2 full court pressure against the Grizzlies, which resulted in 20 steals.
"This was a great first win for us. We came out with great defensive intensity, where we full court pressed them and created numerous turnovers," said Van Pelt. "I was pleased with the way all the girls contributed to the win. We have been working hard on going hard all the time and playing selfless basketball."
Grandview led 19-4 after the first quarter but the Grizzlies played better ball in the second period. Sunnyside almost matched the Greyhounds point-for-point, but Grandview outscored Sunnyside 11 to 9 in the second to lead 30-13 at halftime.
Puente said he made some adjustments during the half and his girls responded. Working hard on defense, Sunnyside was able to force some turnovers that the Grizzlies converted into points. The Lady Grizzlies went on a run and whittled the lead down to just eight points before they ran out of gas.
"We hit a dry spell and then battled back and forth after that," Puente said.
The Lady Greyhounds were able to recover the points they lost in the third and pulled away in the fourth for the win.
Grandview's defensive effort was led by Gabby Montelongo with 11 steals.
On offense the Lady Greyhounds were sparked by Marissa Caballero with 25 points and Payton Parrish with 18 points and a team-high 13 rebounds.
Shyann Guillen also tallied in double figures for Grandview with 10 points.
"There are still things we need to work on, we had 23 turnovers which is way too much for a basketball game," Van Pelt added.
Sunnyside was led by Ruby Herrera, who scored 20 points and pulled down 12 rebounds.
"Ruby had a great game and worked hard," Puente said. "Most of her points came within the paint. She showed a lot of heart to get to the rim."
Vanessa Alvarez finished with eight points for the Grizzlies and Audi Sanchez added seven points.
Sunnyside shot just 20 percent (4-for-20) from the free throw line. Grandview was 17-for-27. Sunnyside turned the ball over 31 times.
"We need to be a little more patient, but all-in-all, the girls are really working hard," Puente said.
Sunnyside (0-3) will get back to work on Friday, Dec. 10, when the Lady Grizzlies travel to Moses Lake for a 7:30 p.m. game. Grandview (1-2) will host Ephrata at home on Friday, Dec. 10, at 5:45 p.m.