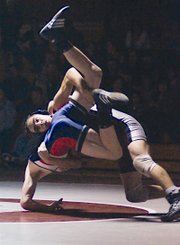 GRANDVIEW - The Grandview Greyhounds battled the Ellensburg Bulldogs yesterday and, although they put up a fight, the Ellensburg wrestlers walked away with a 34-28 victory.
The Grandview team was trailing the Bulldogs until Angel Abarca (125 lbs.) faced Ellensburg's Dillon Dompier.
Grandview coach Jeff Sevigny reported, "This was probably the most exciting match of the night because it was two tough kids going at it."
Abarca, a Grandview freshman, defeated Dompier in a third overtime when he scored an escape with five seconds left.
The slight lead given by Abarca's win was strengthened by Marco Gonzalez's (130 lbs.) win over Ellensburg's Tyrell Waggoner, but three straight losses for Greyhounds clinched the Bulldogs' win.
Also scoring for the Grandview team were senior Adam Morales (215 lbs.), junior Martin Torres (285 lbs.), freshman Stevie Rodriguez (112 lbs.), freshman Juan Tzib (119 lbs.) and senior Raul Gamboa (152 lbs.)
Morales defeated his opponent, Corbin Richardson, with a pin at 2:15; Tzib also pinned his opponent, Jason Cole, at 2:50.
Despite the loss, Sevigny says he is proud of the effort his team put forth against Ellensburg.
"They wrestled so hard," Sevigny said. "It's hard to be disappointed.