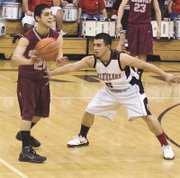 In a tale of two halves, the Sunnyside Grizzly boys basketball team rallied but couldn't make up a 31-7 deficit last night, Tuesday, in a 64-42 loss to rival Grandview.
The visiting Greyhounds took control from the outset, rolling to a 16-2 first quarter lead before going up 31-7 at the half.
"We made it an effort to run the floor and really work on our team chemistry and identity," said Grandview Coach Roy Garcia.
Sunnyside responded in the second half, though, outscoring Grandview 35-33.
"We came back in the third quarter and challenged Grandview. We won the second half, but we couldn't make up the 20-plus points," Sunnyside Coach Ron Rowe said.
Rowe noted the more experienced Grandview squad was able to exploit the inexperience on Sunnyside's team.
"They picked us apart at times," he said. "We have a very young team. There will be up and down moments. Our goal is to learn from this and be a better team as we move through the season."
The balanced Grizzly scoring attack was led by Eric Amaro with 10 points, followed by teammates Andrew Daley and Israel Manzo with seven and six points, respectively.
Daley and Amaro led Sunnyside in rebounding with six boards each.
Jesse Leija helped pace the Sunnyside offense with three assists.
Grandview was sparked by Daniel Nielsen's 18 points and Christian Schrank's 16 points. Adrian Reyes added 12 points for the Greyhounds.
Rowe praised the play of Manzo, who is Sunnyside's leading scorer this season, for his efforts to get more of his teammates involved in the attack.
With Moses Lake coming to Sunnyside this Friday and then Davis on Saturday, Rowe hopes his team can sustain the momentum from last night's second half.
"We just need to come out of the gate better and go from there," Rowe said.
Even with the win, Garcia says the Greyhounds need to improve as well.
"I'm happy with the win, but we still have lots to work on before we kick off our league opener this Friday (at home against Ephrata)," Garcia said.