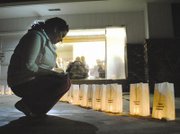 Lower Valley Hospice and Palliative Care held an evening of remembrance yesterday, Tuesday, where employees, friends and families gathered to reminisce about those they lost over the past year.
The front entrance to Lower Valley Hospice and Palliative Care welcomed guests with more than 260 luminaries, each baring the name of a patient lost since Dec. 1, 2009.
During the event, the names of the 260 people were read aloud, along with passages from the Bible - words aimed at providing comforting and offering strength for those gathered.
The VFW Honor Guard was also present to offer a variation of its burial ritual - the words holding particular significance as the evening of remembrance was held 69 years after the attack on Pearl Harbor.
Guests were then invited to tour the hospice facility and talk with employees, while light refreshments were offered.