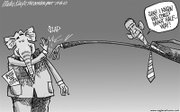 It's been two days since President Barack Obama announced the extension of the Bush tax cuts across the board.
Finally, he listened to the American people! I couldn't be happier and am hoping this will mean businesses will begin hiring more unemployed individuals.
My family has been affected by the economic downturn and we have been waiting for good news...more jobs.
I don't care if Obama agreed to the extension of the tax cuts for political gain. I just care to see the country recover from the past couple of years.
If the country does see a resurgence in jobs, Obama will deserve credit for finally paying attention to the will of the people. Credit should also go to the Republicans, who insisted the extension be extended to even those making more than $250,000.
The far left is none too pleased, however. They feel anyone making more than that magical dollar amount is beholden to those who live below the poverty line. The far left believes it is only fair that the "rich" share the wealth they rightly earned.
The politicians will continue to point fingers and bicker...of this I am certain.
But, for many, the recent announcement could not have come at a better time.
Now, it is time for employers to ease the burden on what remains of the workforce and hire those so desperately seeking jobs. In turn, the minds of many Americans will be eased as they are provided the ability to provide once again for their families.
I know it won't be an overnight miracle, but a slow transition. I just hope the transition is evident in the months to come.
More like this story