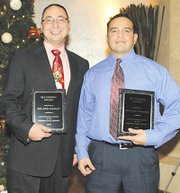 Last Friday, the Sunnyside Police Department hosted its annual awards banquet, honoring several officers for distinguished service.
Named 2010 co-officers of the year were Johnnie Gusby and T.J. Orth.
Gusby has worked for the Sunnyside Police Department since 2003. He was the 2007 recipient of the award and this year served as a field training officer. He is also working to become a defensive tactics instructor. He has also served as a corrections officer.
"He works really hard to consistently better himself and the department," said Sunnyside Police Department Public Information Officer Charlotte Hinderlider.
Orth was in 2007 named the reserve officer of the year. Orth has been a full-time officer with the Sunnyside Police Department since 2009, and served as a reserve officer for several years preceding his full-time status.
Hinderlider said, "T.J. consistently works to keep high numbers of contacts in the community and is a thorough and dedicated officer."
Sergeants John Chumley and Oliver Hernandez were co-recipients of the Eli O'Brien Award, presented to Sunnyside police employees who have supported the Sunnyside reserve police officers.
The sergeants were recognized by the reserve officers for assisting with training, scheduling, coordinating and providing general assistance to those serving the police department on a reserve basis.
The 2010 corrections officer of the year is Jose Prieto, who has served the Sunnyside Police Department since August 2009.
Prieto was recognized for his determination to make every day a good and productive day, according to Hinderlider.
"He is the type of corrections officer who does his job at 100 percent every day with a smile on his face," she said.
Hinderlider added, "(Prieto) is focused on the betterment of the Sunnyside city jail."
Reserve Officer Bill Harris is now a two-time reserve officer of the year, having first won the award in 2009.
"He is a dedicated reserve who is consistently out on the road and taking calls whenever he is available," said Hinderlider, adding Harris is an asset to the Sunnyside Police Department.
The Steve Evans Award recipient for 2010 is Reserve Sergeant Larry Slavens. The award is presented to the reserve officer who "goes the extra mile." Slavens spearheaded the hiring of several new reserves in 2010. "He has spent a substantial amount of time doing background (inquiries) and coordinating interviews," said Hinderlider.
Recognized as the 2010 supervisor of the year was Sergeant Andrew Gutierrez. He has been employed at the Sunnyside city jail since March 2001. This is the sixth time Gutierrez has been named supervisor of the year.
One more award, the support person of the year, was presented. The winner of the award was Mary Vialon, who has worked for the Sunnyside Police Department since 1992.
She has been named the recipient of the award 11 times during her tenure.
"Mary is a training officer for dispatchers...she is the Access auditor for the department as well," Hinderlider said.