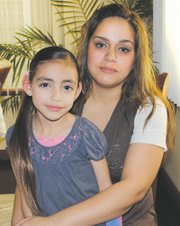 Leslie Madrigal, a first grader at Chief Kamiakin Elementary School, underwent brain surgery Wednesday, Dec. 1, in an effort to control her seizures.
Reports from Leslie's family indicate that the 7-year-old is recovering well following a more than five-hour surgery at Seattle Children's Hospital.
Leslie was diagnosed with epilepsy earlier this year. After attempts to control the seizures with medication failed, Leslie's parents, Maria Navarro and Luis Madrigal, agreed to the surgery.
Doctors removed a small portion of Leslie's brain that is believed to have been a significant cause of her seizures. They are hoping the removal will reduce her seizures by 80 percent, though it is impossible to know how effective the procedure will be this early in her recovery.
Leslie is out of the ICU department and she is alert and coherent, reports her aunt, Cyndi Medina.
"At one point (her family) even got a smile out of her."
Leslie is able to move her arms, legs, hands and head. Doctors are waiting for her movement to improve.
"Every day is looking more positive for her," said Medina. "If things continue to progress the way doctors hope, Leslie could very well be home in the next 10 days.