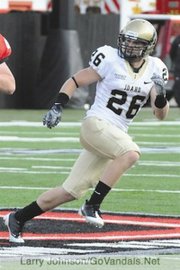 MOSCOW, IDAHO - Though his football career at the University of Idaho is finished, 2006 Grandview High School graduate Brandon Artz will stay connected to the program next season as a coach.
Artz was an all-everything quarterback for the Greyhounds' State quarterfinal team back in 2005, and walked on at Idaho four years ago.
After three seasons of playing for the Vandals, Artz finally earned a football scholarship for his senior year.
"It was just a matter of pride in myself to keep going and try to earn that scholarship," Artz said of earning the prize at an NCAA Division 1 school.
"It taught me to overcome adversity, to show the coaches that I can be a big part of the program," he said.
After his team posted a 3-21 record through the first two seasons, the fruit of Artz's hard work started paying off last season, when the Vandals went to their first bowl game in more than a decade.
Artz and the University of Idaho nearly wrapped up a second consecutive bowl bid this season, only to lose in the final seconds to Fresno State.
His drive to overcome obstacles has led Artz to be one of the Vandals' captains this season as a special teams player.
Artz says his only regret is not getting to throw a pass for the Vandals.
But that is far outweighed not only by playing for a college program but, after graduation, actually joining the Idaho coaching staff next season.
Artz will be on staff as a graduate assistant for the next two seasons. Though the coaching post is unpaid, the university will cover the tuition for his post-graduate studies the next two years.
For the foreseeable future, Artz says he hopes to stick with Coach Rob Akey's staff, whether it be at Idaho or elsewhere.
Long term, he'd like to be a head coach for a college program.
Recently married this past summer, Artz says wife Cristal (Concienne) is well aware of the time he'll need as a coach. "She's my rock and my foundation," Artz says.
Artz has come a long way from his youth in the Lower Valley.
Along the way he has overcome major obstacles, none bigger than being born with a club foot and told he'd never play sports.
"I was born with my left foot upside down and facing my other foot," Artz explains. "I had surgery within the first 10 hours after I was born."
The result is that his left foot has only about an inch of Achilles tendon.
"The doctors said I would walk with a limp and not be able to play sports," Artz said. "That motivated me to keep going."
Adversity motivated him to pursue a college sports career both as a player and as a coach.
A new generation of Lower Valley youth have motivated him to share his story of overcoming adversity.
"I want them to see how hardships can build your character, how hard work pays off," Artz says.
He adds, "It shows that a small kid from the valley with hard work and commitment can go on and do something bigger than anyone thought possible.