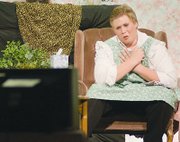 GRANDVIEW - Playing with "role reversal" yesterday (Thursday) were the Grandview High School drama club members as they opened their production of The Family Man by Benjamin Bernard Zavin and Carl Leo.
This play, which was written in the 1950s, tells the story of a man who takes up the duties of a housewife after a leg injury while his wife returns to work. But while each spouse moves into their unconventional new role, they find themselves strangely suited to the change.
The Grandview drama players are well suited to their roles and, despite a few unfortunate line flubs, the young actors really throw themselves into their characters.
Sawyer Schilperoort is nearly perfect for his role as Bill Cahill, the accident-prone family man who finds himself in the role of housewife. The play rests heavily on Schilperoort's performance, as it is his actions that drive the story, but the young man pulls it off well and the audience is always sure to find a laugh in his performance - be it from his dialogue, or just a mere facial expression.
Schilperoort also maintains a strong chemistry with his wife, played by Briana Nettles-Biggs, and interacts well with every character to cross his path.
But while all the actors deserve strong praise for their performance, there were a couple who really stood out. Jenalee Mariotti as Mr. Cahill's neighbor Mrs. Beeman brought laughter no matter which scene she was in. Mariotti created a character on stage that was entertaining and engaging, even when the focus of the play was on other activity.
Actor Kaelan Clute was another young actor who really grabbed the audience's attention because he actually played two characters and distinguished them well from each other.
Clute's Dr. Hartnett was good for plenty of laughs, but his Jerry Trevor performance sold me on his talent. Clute really gave the Hollywood executive vibe and brought an added level of energy to the stage during his short performance.
If there is a flaw to the play, I'd have to point to the unimaginative way the actors use their space. The action in this play takes place in the Cahill's front room, and it is a wonderfully crafted set (and I must add that the costumes were fantastic, too), but the space is under-used.
At any given time, the actors are either sitting in an un-engaging manner or standing center stage. With the story, I understand that these two positions are the easiest, and perhaps the most natural manner to present the action, but I would have liked to have seen a bit more movement with more interesting tableaus.
But do not let that minor flaw deter you from heading to A. H. Smith Elementary School in Grandview for this entertaining production. The Family Man returns for two final performances tonight (Friday, Dec. 10) at 7 p.m. and Saturday, Dec. 11 at 1 p.m.