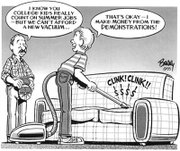 The end of the year is rapidly approaching, and for high school seniors all over America major decisions are being made to answer that all important question - What are you going to do after high school?
The options facing high school students are many and each has their own merits. Joining the workforce means earning money. The military means serving your country. And college means...more school?
When I made the decision to not go to college right after high school, I did it saying that I was tired of school. After 13 years, I suppose it was a legitimate complaint. I really did think I just wanted a break.
Looking back now, I realize that the real reason I did not go to college right away was because I was afraid.
Alright - there you have it. I am a bit of a coward.
I was afraid because I did not have the money to go to college and I did not know how to get it. I was afraid that college would be too hard. I was afraid I'd fail. But most importantly, I was afraid to talk to anyone about those fears.
My fears in those early days are no different than what many students face today. There is a great amount of apprehension when it comes to facing the unknown, for the young and old alike.
I can't emphasize how happy I am that I finally made that decision to go to college. I loved the entire experience. I met so many interesting people, from a Hurricane Katrina survivor to a woman who went on a blind date with Alex Rodriguez...before he was a jerk.
College also gave me the opportunity to cross something very important off my bucket list - I went to Mexico. I was able to take a study abroad trip to Oaxaca and I can tell you that sitting atop an ancient Zapotec pyramid is one thing I never want to forget.
High school students, and even adults, who hold even the smallest desire to go to college, should not hesitate. The best thing about college is that a student does not have to show up at 7 a.m. and leave at 3 p.m. College can be tested and explored by taking one class, in the evening, online or even on a Saturday, without committing everything.
Now is the time for people thinking about college to get serious about school. Applying for college can be a hassle, but well worth the effort. And don't delay in filling out the FAFSA this January (Free Application for Federal Student Aid), you might be surprised by all you qualify for.
And remember that just because you want to work after high school, or join the military, does not mean you have to put aside college. Colleges love to work with students, especially when those students have other obligations.
I've seen a lot of people who regret not taking the chance and going to college...but I've never met anyone who regrets being part of the college life.