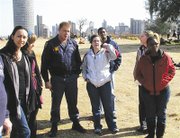 This past June Pacific Lutheran University student Dianna Mendoza of Sunnyside traveled to South Africa in an effort to fight human trafficking. She will be sharing her experiences in Sunnyside on Sunday, Dec. 19.
Mendoza, in 2007, spent time in Tanzania, developing a love for the African continent and its people. Last December she heard about the plight of people who are victims of human trafficking in Africa.
She is a social work major and after contacting Exodus Cry, an organization focused on fighting the human trafficking battle, decided to join in the organization's efforts.
On Dec. 19, she will provide a presentation focused on her month-long venture at noon at Our Saviour's Evangelical Lutheran Church.
Mendoza was part of a team that included individuals from countries around the world. They worked with organizations like the Salvation Army, visiting the streets and brothels of Cape Town during the World Cup.
The group from Exodus Cry learned much of the prostitution in well-known areas went more underground than normal due to a high police presence during the soccer championships.
The trip, said Mendoza, was heart-wrenching. She had opportunities to meet victims of human trafficking.
She and the group visited safe houses and traveled to four different cities, including the country's largest city of Johannesburg.
Mendoza said she has been greatly impacted by the experience.
Mendoza visited with several women who were victims of human trafficking and their stories provided her a greater understanding of the problem.
The group from Exodus Cry prayed with them and provided them resources to help them in their plight.
"As a result of the experience in South Africa, I have been working on anti-human trafficking initiatives in Tacoma," said Mendoza.
Those interested in hearing more about Mendoza's experiences can attend the Dec. 19 presentation at Our Saviour's Evangelical Lutheran Church, located at 1106 Taylor Street. The presentation will be provided at noon.