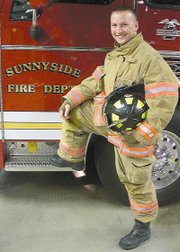 If Sunnyside residents are not familiar with new Sunnyside Fire Department firefighter/EMT Dave Riddle, they may recall his grandfather, former Sunnyside Major Don Hughes.
With his close family ties to the Sunnyside area, Riddle spent his early years in Sunnyside, but when his mother became the pastor of a Methodist church in Pasco after the sixth grade, his family moved to the Tri-Cities area.
Right out of high school, Riddle says his goal was to become a firefighter.
"I was looking for something with a little bit of excitement," Riddle recalled, "something with a true definition of being able to help people in need...it matched up well with the fire department."
Riddle received his training and education from Columbia Basin College, where he received his Applied Science degree in fire science.
During the program, Riddle also did a residency with Walla Walla Couthy Fire District No. 5. During this time, Riddle was a volunteer, but got to live at the fire station and gained plenty of experience.
After school, firefighting positions were slim so he took other jobs, including working for a private ambulance company and working in a physician's office. But Riddle never forgot his ultimate career goal and volunteered for Franklin County Fire District No. 3.
Riddle tested through the National Testing Network, an organization that tests public service candidates in aptitude, physical agility and workplace conduct, then makes those results available to potential employers.
When Riddle heard a rumor that the Sunnyside Fire Department was looking for new firefighters, Riddle made sure that his test scores were sent to them.
The competition for these positions is very competitive, Riddle revealed, but he was most pleased to be hired on in a community that means so much to him and his family.
"My family has a legacy of public service here and I'm excited to be carrying that on."
Currently, Riddle and wife, Bethany, still live in Pasco, but the couple will be looking to move closer sometime in the future. For now, Riddle commutes to Sunnyside and it helps that Bethany is proud of her husband's new career.
"She's very supportive and really excited that I finally got the job of my dreams."
And this job has really been a dream, for Riddle. He always wanted a job that allowed him to help people, a job he would be thrilled to go to.
"This job is a really nice medium between the two - having the public service and, at the same time, having a job that I'm excited to go to and like doing. That's really nice to be able to say.