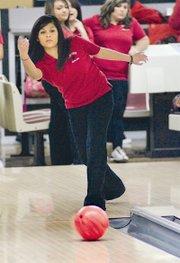 Sunnyside High School junior YaYa Gonzalez turned in the Lady Grizzlies' top individual effort of the season yesterday.
It went for naught, however, as the West Valley Rams proved unstoppable in Thursday's prep bowling match-up.
Behind freshman Blaire Crutchley's 422 two-game series and a 418 tallied by junior Miki Campbell, the Rams blanked the host Sunnyside varsity, 4-0.
Despite absorbing the loss, Sunnyside received a stellar effort from Gonzalez. The SHS junior opened with a 178, upping her pinfall by four in the second game with a 182. The two-game 360 series is the best individual performance by any Lady Grizzly this season through seven matches thus far.
West Valley put a licking on the Lady Grizzlies in Thursday's opener, 938-645. The Rams were powered to the first-game win by senior Alyssa Deaton, who rolled a 230. West Valley also got 204 and 203 efforts from Makayla Douglas and Campbell in that opening game, as well as a 176 from Crutchley and a 125 from Ally Delozier.
Gonzalez's 178 was high for Sunnyside in the opening game. The other Lady Grizzly scores in the opener included a 136 by Amanda Villarreal, a 118 by Johanna Chumley, a 109 by Sandra Ramirez and a 104 by Larisa Sagarnaga.
The Rams won by nearly as big of a margin in game two, 967-681. Crutchley's 246 paved the way to the game-two victory for West Valley.
The Lady Grizzlies' individual scores in the second contest were a 182 by Gonzalez, a 134 by Chumley, a 131 by Villarreal, a 128 by Sagarnaga and a 106 by Ramirez.
West Valley completed the sweep of the Lady Grizzlies by winning both Baker contests, 163-123 and 189-113. Unlike the first two head-to-head match-ups, Baker bowling calls for each member of the five-girl squads to alternate taking turns throughout the 10 frames.
The SHS bowling team is scheduled to take on the Pasco Bulldogs next Tuesday in Pasco.