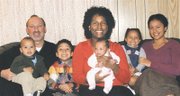 Havala Froehlich was born at 2:05 a.m. on Nov. 18 in her family's Naches home. But unlike her eight siblings, the circumstances surrounding Havala's birth are a little unusual - Havala was delivered right into the hands of her father at home.
But this was no accidental home delivery. Alvin and Zambia Froehlich made the decision to have Havala at home after giving birth to five children at the hospital and becoming displeased with the service offered there.
After the Froehlich's last child, Moses, was born at the hospital, the couple really began considering home birth. Alvin, a sales associate at the Best Western Grapevine Inn in Sunnyside, reported that they were increasingly dissatisfied with the manner in which the hospital staff treated the family and Zambia during her labor.
"They made us comfortable," he said, revealing that the hospital staff did not want the couple recording Moses' birth.
When the couple discovered they were expecting another child, they began to seriously look at home birth. They had discussed it before, but Zambia had some reservations. Alvin wanted her to be 100 percent OK with the idea before they proceeded.
Her displeasure with the hospital helped make up her mind, but when it came to identifying a midwife, the couple found themselves in another bind - they could not find a local midwife with whom they feel comfortable.
When most people might have given up on a home birth, the Froehlich's considered doing something even more unusual - allowing Alvin to serve as the midwife.
The couple turned to God for guidance. They understood the risks of having a home birth and, though they were advised against it by many health care providers, the Froehlich's were sure they had God on their side.
But for this to work, Alvin and his family needed to plan and prepare. He revealed a couple of books were especially helpful in preparing for the home birth.
Zambia and the couple's 17-year-old daughter Camille, a young woman who plans to become a midwife herself, found the book Heart & Hands: A Midwife's Guide to Pregnancy and Birth by Elizabeth Davis a fantastic source of knowledge and comfort while preparing for the home birth.
Alvin, on the other hand, could not say enough about Emergency Childbirth: A Manual by Gregory J. White, M.D.
"Every woman needs to read this book," he said, adding that it really allows the reader to understand a woman's body and what she is capable of.
All the while, the Froehlich family was looking for support, but they were disappointed to find that few people were willing to assist the family when it was time for Havala's birth.
Zambia's sister, an RN, refused to be present for the birth. Mr. Froehlich noted that the woman would have risked her nursing license if something had gone wrong with the delivery, but he had hoped that she could place her faith in God, as the Froehlich's had, and trusted that everything would turn out as it should.
The Froehlich's did receive an offer for assistance from a neighboring family, but they eventually backed out of the commitment.
"It's just fear," Alvin said, adding that he met a great many people who were blinded by that fear and confused by their decision to have a home birth.
"This decision," he said, "it was about removing ourselves, our family and our decisions from that culture of fear."
And if the Froehlich's had been surrounded by fear before Havala's birth, they found a way to move past it.
Alvin said that the family came to terms with the worst possible outcome - that Zambia could die and so too could Havala. But once the family came to terms with the worst, and placed their faith and trust in God, they knew they could continue with the home birth.
Zambia even took the time to write a letter to her family in case anything happened to her. She wrote, "We know things can go wrong and I take full responsibility for that. Overall, God is in control...His will be done."
Alvin revealed that Zambia did better with this delivery than she had with her previous five children. She was happy and enjoyed the birth, being unencumbered by medical personnel and remaining comfortable.
Havala was eventually checked over by her doctor before being given a solid bill of health. Alvin was also pleased to hear from the doctor that he approved the family's decision to have a home birth, though the family had seen a great many health care professionals who had been adamantly against the decision.
Alvin says that if God blesses them with another child in the future, they plan to have another home birth.