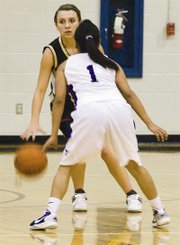 MABTON - The first quarter meant everything to the Mabton Lady Viking basketball team this past weekend in a loss at Ranger and a win over Sunnyside Christian.
It was a first quarter struggle on Friday that doomed the girls in a 55-47 loss at Naches. The host Rangers opened up a 21-9 lead in the opening stanza after forcing six turnovers in the final two minutes of the quarter.
Mabton tried gamely to come back, trailing 32-22 at the half and 41-31 after three quarters.
But Naches pulled away in the fourth, going up by as much as 20 points in the final period before Mabton rallied to cut it to single figures.
"Offensive rebounds (for Naches) and turnovers really hurt us," said Mabton Coach Chris McCallum. "They're pretty quick and their size gave us trouble. We had 30 turnovers."
Jazzee Sustaita led Mabton with 18 points, including three three-pointers in the second quarter to keep the Lady Vikings in the game. Teammate Melissa Gutierrez added 13 points.
Mabton flipped the script on Saturday, though, roaring out to an 11-2 first quarter lead over Sunnyside Christian and never looking back in a 47-37 win in its home opener. "It was about the first quarter again," McCallum said. "We led by about nine points the whole game."
Trimming its turnovers to just 10, only a third of the miscues they committed the night before, Mabton held serve in the second quarter to go up 23-14 at the break and 36-26 after three quarters.
Veronica Vasquez led a balanced Mabton attack with 15 points and 10 rebounds. Teammate Crysta Reynolds also recorded a double-double to the tune of 12 points and 12 rebounds. Gutierrez tallied 13 points and sparked the Mabton defense with six steals.
After traveling to Goldendale tomorrow, Tuesday, Mabton (2-3) finally opens league play at home this Friday against Riverview.
That's not a typo for fans of the SCAC West, as after years of league rivalries with Granger and Zillah in the SCAC West, Mabton this season moves to the SCAC East for the first time.
The move is due to the addition of LaSalle in the SCAC West and the decision of Cle Elum to opt up and stay at 1A even though its enrollment declined to a 2B level.
"We've had some good rivalries in the SCAC West, but this is something we'll have to deal with this season," McCallum said of Mabton's move to the east.
"This gives us some momentum," McCallum said of garnering a weekend split. "This week is big with the league opener and two teams that are pretty evenly matched with us."