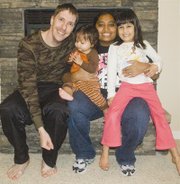 GRANDVIEW - A Grandview couple struggling to cope with the after effects of war will be featured on the television program E! Investigates, on Wednesday, Dec. 15.
Coban and Sara Shaw are coping with life after Coban was medically discharged from the U.S. Army after wounds he received serving in Iraq. The television show is featuring wounded warriors and the families that are left to take care of them.
"It's very hard," said Sara, who must take care of her two children and Coban, who suffers from a brain injury.
Coban was medically discharged from the Army in 2007, just one month shy of his fourth year. He is 100 percent disabled and must have someone constantly be around him.
For all visual purposes, Coban looks fine. He suffered a brain injury when an IED exploded near his vehicle in 2006. Attached to the 166th Armored Battalion, Shaw served as a combat engineer. His job was to blow up structures.
It was on one of these missions, when his platoon was blowing up a bridge, that he was involved with an IED explosion.
"All of a sudden, BOOM," he said. "I found myself lying in the bottom of the Humvee with dirt and debris everywhere."
Shaw was the only person in the vehicle at the time and was basically unscathed.
"It was a miracle," Shaw claims.
He said he was untouched, as well as the Humvee, despite being nearly on top of the IED. The 155mm shell totally destroyed the spare tire of the Humvee, but spared the vehicle itself.
"I've been told I was close enough that I should have been killed from the concussion alone," Shaw said.
But he wasn't and to everyone around him, it was a tragedy that was avoided. Shaw was never checked out at the scene, wasn't evacuated and soon found himself back to work, blowing up the bridge.
But, there were some injuries. Shaw couldn't hear for nearly a month and he soon found himself having memory problems, headaches and dizziness.
It started to be a problem and soon his superiors noticed. At first they thought he was just slacking, but Shaw told them he was having problems with his head. It took medical staff back in the states to diagnose Shaw with a brain injury. He was out of the army soon after that.
The show airing this Wednesday documents the struggles Sara Shaw has had. The story is told from her perspective.
She said her husband has completely changed from his time in Iraq. The brain injury has given him a whole new personality, which leaves him bitter, angry and frustrated some times.
Because his memory is shot, he cannot be alone, especially with the children. He can only focus on one thing at a time, if something takes his attention away, he completely forgets what he was doing.
"It's a balancing act," Sara said of taking care of Coban and their two children. "Some days are horrible, he can't get out of bed because of his headaches or he can't walk. You never know what version it's going to be."
The injury has caused strain in their marriage, but she refuses to even think about separating.
"I love him, this isn't his fault and I won't leave him when he needs us more than anything," she said. "I don't like him sometimes but I love him. That sucks but that's the reality of war."
For Coban, the situation is frustrating, as well. He remembers what he used to be like, but now he's stuck. He gets angry, he's frustrated. He can't drive and he can't work.
The Shaws are hoping to sell their house in Grandview and move back to Coban's home town of Pittsburgh. There he has family that can help with the kids and him, which should free some time up for Sara to maybe one day go back to school. There are also three VA hospitals in the Pittsburgh area, making it more convenient for treatment.
The Shaws are hoping Coban can get into a traumatic brain injury program there.
With the television show, Sara Shaw is hoping to bring awareness to the fact that there is still a war going on and there are victims being created every day.
"I sent one guy off to the war and I got him back entirely different," she said.