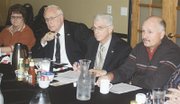 Local leaders laid out their Christmas wish list this morning, Tuesday, to state legislators during a breakfast meeting in Sunnyside.
Officials from the Sunnyside School District, City of Sunnyside and the Port of Sunnyside joined Sen. Jim Honeyford and Rep. Bruce Chandler for breakfast.
With state lawmakers fresh off a one-day special session this past Saturday, and heading back to Olympia next month, the wish lists by all three local entities were long.
From the Sunnyside School District there was praise for leaving levy equalization funds alone in last Saturday's budget slashing session.
Superintendent Dr. Rick Cole noted, however, the state's cost savings move on Saturday in K-4 education means 10 teaching jobs will be lost in Sunnyside. Even so, he praised the lawmakers for making the cuts across all school districts. Levy equalization cuts, Cole added, would have hit some school districts harder than others.
If cuts are to be made in education, Cole added, then the legislature should continue to make them "fair and equitable" among all districts.
Cole also noted the consideration by state lawmakers to trim all-day kindergarten to a partial day would mean an additional 13.5 teaching jobs would be lost here.
He added that with the moves teachers will be looking at classroom sizes with 29 students instead of the 20 students in the current bargaining agreement with local teachers.
As a result, Cole asked the legislature to consider some sort of relief or moratorium on having to meet the 20-student-per-class agreement.
City of Sunnyside leaders quizzed legislators on the chances for anti-gang legislation to finally get passed in Olympia.
Chandler said it would be a "tough call" as to whether gang-related legislation will pass. He did note there is more openness statewide to the measure.
City Manager Mark Gervasi also asked about the state's toxic clean-up fund. Honeyford replied that some in Olympia have raided the fund in order to avoid cuts in some programs. The clean-up fund would be helpful to Sunnyside, which recently learned there are toxins that need to be cleaned up at the airport.
The Port of Sunnyside's top priority was making sure state lawmakers continue support for economic development.
Both port and city officials also expressed concern about current regulations on public records requests, noting some are abusing the system.
One idea proposed this morning is to set a limit on the number of "free" hours staff have to spend on fulfilling information requests before they can start charging for labor.
Looking ahead to the legislative session next month, Honeyford and Chandler said the state may have to take a harder look at some issues related to public employee retirement. Among the issues might be raising the retirement age for state employees.
Chandler says another possibility is rescinding the retire/re-hire law. He noted the move by many state employees to retire while still in their mid-50s, then turning around and getting re-hired for the same position is becoming a high cost.
In contrast, though, Gervasi said Sunnyside has hired a retired building official and would like to be able to work him more hours without impacting his retirement.
As for the length of the coming legislative session, Chandler said it might well last into July given all the budget issues awaiting lawmakers.