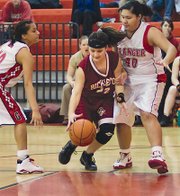 GRANGER - The Granger Spartan girls JV basketball team last night felt the pressure by the visiting Bickleton varsity team.
The Lady Pirates earned a 58-40 victory over the home team.
The action began with Bickleton taking a 19-8 lead in the first quarter. The second quarter also went the way of the Lady Pirates, who outscored the Spartan JV hoopsters 16-8 for a 35-16 lead at the half.
"We came out really strong and pushed the pace against Granger," said Bickleton Coach Emily Barnhart.
She said the match-up, however, was her team's most challenging game so far.
In the second half, Granger came out fighting. The Spartans, said Barnhart, hit a number of three-point baskets in an attempt to overcome the deficit.
Bickleton, she said, held on to the lead, outscoring Granger 11-10 in the third quarter.
Granger put the pressure on the Lady Pirates in the fourth quarter and scored two more points than the visitors (14-12). The effort wasn't enough and Bickleton won by an 18-point margin, 58-40.
"It was nice to see two of Granger's varsity players play down to give us that little added pressure that we'll need to prepare for league play," Barnhart said, stating her team still has "kinks" to work out.
"But, we're definitely getting closer to our goal...when the girls start clicking out there on the court, it is so fun to watch...they are unstoppable," she added, stating her ultimate goal is to get the Lady Pirates playing well together all four quarters of a game.
Katelynn Clinton of Bickleton led in scoring with 37 points. "Most of her points were from putbacks or second shots," said Barnhart.
Clinton grabbed 25 balls from the glass, and teammate Jenna Mount provided four assists. Mount also stole the ball from the Spartans five times and scored eight points.
Lady Pirate Haley Goodnight popped in another six points, and teammate Jamie Venema scored five points.
For the Spartans, Jessica and Sabrina Autunes combined efforts for 25 points.
Bickleton (3-0) travels this Thursday to Zillah to take on the Leopard JV squad in another non-league match-up.