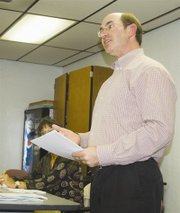 MABTON - The Mabton School Board last night, Monday, received a report about a program called HU 105 that was implemented this fall.
The grant-funded program is offered by Heritage University, in which multiple teacher candidates are placed in some classrooms at Artz-Fox Elementary School.
The idea, says Mark Cheney with Heritage, is to give teacher candidates a two-year internship.
He says it's patterned after the process candidates in other occupations go through, such as doctors in residency.
As a result, instead of just learning about teaching as a college student, the HU 105 program gives teaching students a two-year internship in the classroom.
Not only is there a benefit for teacher candidates, says Cheney, but elementary school children will benefit by gaining two years of education in math and science in just one year. Cheney says that's possible because the core classroom teacher is helped by two teacher candidates as well as a specialist.
That in turn gives elementary school students more one-on-one time with educators.
The Artz-Fox students also benefit, Cheney says, because the goal is for the group of educators to move with them to the next grade level.
As a result, there is more awareness of each student's strengths and weaknesses and it's easier to involve each child's family in the educational process since the teachers advance with students to the next grade level.
Not only do teaching candidates and elementary school students benefit, but Cheney said the actual classroom or core teacher benefits by having ongoing professional development.
In addition, core teachers receive coaching in leadership and mentoring training, as well as a laptop computer and scholarships for postgraduate work.
HU 105 just started in Mabton this school year, and Cheney says plans are already in the works on preparing for HU 105 in Mabton during the 2011-12 school year.