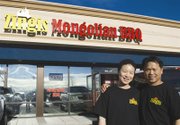 Tim Choi and his wife Esther have been in the restaurant business for a combined 12 years and were seeking new opportunities when they decided to open Zingis Mongolian BBQ in Sunnyside.
The couple lives in the Tri-Cities and for several years there operated Sushi Mori.
Mr. Choi said, "I didn't feel it is fair that large cities are the only ones offered a variety of food choices."
Looking for a change, he set out to find a location suited for a restaurant that serves fresh, healthy food. He found that location near Sunnyside's Subway restaurant at 2810 East Lincoln Avenue.
The location, Choi said, is ideal because it is close enough for him and his wife to commute daily from the Tri-Cities. He also believes Sunnyside has a lot of potential.
"I like being part of a growing community," he said.
The food offered at Zingis Mongolian BBQ consists of fresh vegetables, noodles and a variety of meat choices. The customer selects the size of their bowl from a buffet bar. They fill the bowl with the foods they want to eat. Then, the patron chooses from a number of fresh-made sauces.
After selecting the sauces to be cooked into the food, they choose how spicy they want their food. The customer can watch the cooks at the Mongolian grill shuffle and meld the food into a tasty meal.
Choi said only a few renovations were necessary before he could open, including the installation of the grill.
Choi is proud of the fact that most of his eight employees are from the Sunnyside area. "Sunnyside is a nice town...the people are friendly," he said.
The restaurant has been well received, said Choi, noting he has been busy since opening last Wednesday, Dec. 8.
Zingis Mongolian BBQ is open seven days a week. Lunch hours are 11 a.m. to 3 p.m. and dinner is 3 to 9:30 p.m. Monday through Saturday. Sundays the restaurant closes at 8 p.m.