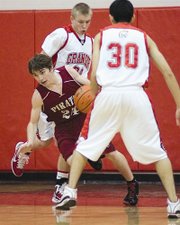 GRANGER - The Bickleton Pirates varsity boys basketball team faced the Granger JV team last night but came out on the short end of a 64-42 decision.
Bickleton Coach Jerry Roberts reported that the team had too many turnovers throughout the game. Roberts revealed that every missed pass seemed to result in a couple points for the opposing team.
"Our turnovers are what lost the game," he said, but added, "It was a good learning game for us."
Bickleton sophomores Justin Roberts and Mitchell Powers put in a strong showing in the game. Roberts scored 10 points for his struggling team, while Powers landed 14, including four three-point shots.
Also scoring for the Bickleton team were Nic Venema with 8 points, Taylor Brown with 8 points and Justin Harvey with 2 points.
Bickleton (1-2) returns to the Yakima Valley Thursday, Dec. 16, when they face the Zillah JV team.