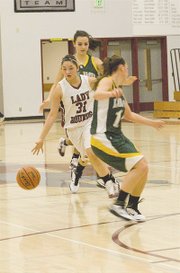 GRANDVIEW - The Grandview Lady Greyhound basketball team used a smothering pressure defense to overpower visiting Quincy last night, 54-46.
Grandview led 10-6 after one quarter, then went up by double digits at the half, 29-18.
The Lady Greyhounds built the lead to 45-31 heading into the final quarter, before the Jackrabbits answered to cut the lead to single digits.
"We were able to jump out to a lead and hold on throughout the game," said Grandview Coach Paul Van Pelt. The Lady Greyhounds also benefitted by creating 14 turnovers to create easy buckets the other way.
At the same time, Van Pelt felt his team let up after getting the big lead.
"I don't think we played with the intensity that has dictated the type of team we are," he said. "We did not play the style of basketball that we are capable of. We have to work on our full game approach and not let up and allow teams to come back and get back into the game."
Grandview was led by Marissa Caballero with 21 points and seven rebounds, while teammate Payton Parrish recorded a double-double to the tune of 19 points and 15 assists.
On defense, Karissa Trinidad sparked the Lady Greyhounds with four steals and Parrish recorded two blocked shots.
Desiree Durfee led Quincy with 14 points, followed by Cassidee Davis with 12 points.
The victory improved Grandview to 2-0 in league play and 3-1 overall.
The Lady Greyhounds will try for their fourth win in a row this coming Saturday at Othello.
"I am proud of the girls for their determination and getting the win," Van Pelt said. "We still have a lot to work on in specific parts of our game that we have to take care of once we get into the heart of our season."
The coach added, "We need to be able to execute in different aspects of the game that are going to be crucial as the season progresses."