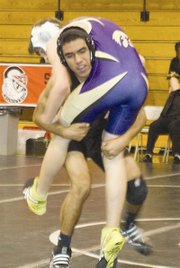 For the second time in less than a week, the Sunnyside Grizzly wrestling team held a league opponent to single digits as the Grizzlies rolled last night, Tuesday, with a 63-9 win over visiting Hanford.
After Sunnyside's Emmanuel Tejeda (140 lbs.) opened the match with a 14-3 victory over Devin Sabe, the Falcons enjoyed a glimpse of hope with back-to-back victories, their only ones on the night. The first was Hanford's Matt Owens (145 lbs.) decisioning David Vidales 6-4. The Falcons won the next bout at 152 lbs., as Ben Tynan pinned Sunnyside's Miguel Madrigal in 5:22 after Madrigal had been leading in the match.
Hanford led 9-3, but Sunnyside quickly gained control of the match for good, as Josh Romero (160 lbs.) sparked the first of 11 consecutive Grizzly victories with a 10-4 decision over Hanford's Joseph Traverso. Next up was Lupe Mendoza (171 lbs.), who delivered the first of four Grizzly pins in less than two minutes, as he bested Cole Atgar in 1:10.
Adrian Ramirez (189 lbs.) kept the momentum going for the Grizzlies with a pin in just 1:11 over Hanford's Casey Enerlin.
After Austin Carmen (215 lbs.) received a forfeit for the Grizzlies, Adam Peters (285 lbs.) followed with a pin in 1:41 over the Falcons' Paul Mettille.
Back to the lower weights, Jesse Barajas received a forfeit at 103 lbs. for Sunnyside, and teammate Santos Guerrero (112 lbs.) pinned James Miller of Hanford in 1:40. Sunnyside's Nathan Gonzalez was up next, and he dispatched Benjamin Hoffner with a pin in 2:26.
In the 125-lb. match, Daniel Guillen of Sunnyside pinned the Falcons' Gordan Garvic in 2:15.
After Isaac Meza of Sunnyside battled to a 7-4 victory over Michael Parkma at 130 lbs., the Grizzlies' Isidro Ramirez (135 lbs.) ended the night with a 19-3 thrashing over Hanford's Travis Hubbard.
"We've got a pretty good team," Sunnyside Coach George Paulus said of the Grizzlies, who last week delivered a 73-6 smackdown over league foe Kennewick.
"Our kids have come up through the program and they know how to wrestle," he added. "They get after things and they're in pretty good condition. They're able to capitalize on the other team's mistakes."
Sunnyside is back at home tomorrow, Thursday, to take on Southridge at 7 p.m.