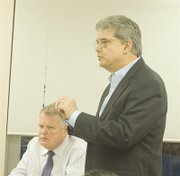 The city of Sunnyside will be open for business five days a week starting next year.
That's the news from City Manager Mark Gervasi during comments this morning, Wednesday, at the Sunnyside Daybreak Rotary Club meeting.
Gervasi says the city council has been seeking a five-day work week for the city and the policy will be implemented starting Monday, Jan. 31, 2011.
While council is backing the move, Gervasi said he had "blow back" from some city employees about working on Friday. "The staff is coming along," he said of getting on board with a five-day work week.
"It's one of the good ways to be friendly to the patrons," Gervasi said. "Every place I've worked before was open on Fridays."
When the five-day work week takes effect Jan. 31, Sunnyside City Hall will be open from 8 a.m. to 6 p.m. Monday through Thursday and 8 a.m. to 5 p.m. on Friday.
In a wide-ranging discussion with Daybreak Rotary Club members, Gervasi also said Sunnyside's proposed budget for 2011 and 2012 should leave the city with $7 or $8 million in general fund reserves after the two-year cycle is complete.
Gervasi said the budget proposal, which is yet to be approved by council, does not include lay-offs.
By contrast, Sunnyside will start the biennium with about $1 million in contingency reserves for the general fund.
Gervasi also announced Sunnyside has received a small grant from Pacific Power to "see what we can do downtown."
Gervasi quipped that the utility was smart to back a grant, since more downtown businesses means more paying electrical customers.
On a serious note, Gervasi said he wants to work with downtown merchants to build back the core area.
"When you don't have a downtown you don't have a town," he said.
In addition to researching urban renewal and bringing in a mix of businesses, other downtown ideas include new trees, sidewalks and some curb extensions.
Gervasi also floated the idea of "façade loans" to help downtown building owners fix up their storefronts.
Another topic broached this morning included progress toward eventual annexation of the Monson property and other properties between there and the city of Sunnyside.
"The city made a good decision to purchase the Monson property," Gervasi said. "There could be some important things happening there."
Speaking of the Monson property, Gervasi said the city will be working with the Port of Sunnyside to market the land. Sunnyside businessman Ed Werkhoven encouraged Gervasi to also include businesses in the discussion.
"You need to include the marketplace at the table," Werkhoven said.
Also discussed this morning was concern about Sunnyside's dwindling middle class due to crime and a perceived difficulty in working with the city's building department.
Gervasi said the city is taking steps towards being more customer-friendly.
As for crime, one encouraging point made this morning is that more people are reporting suspicious and criminal activity.
Gervasi says the city needs to "re-brand" its image. Another step in that direction is a meeting he would like to see happen next spring.
"I'd like to bring in a facilitator to talk with us about our strengths, our weaknesses and our threats," he said.