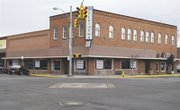 There is a vision for downtown Sunnyside and it means great opportunity for local business owners.
Shoval & Co. in Yakima recently purchased the building on the corner of Sixth Street and East Edison Avenue. Former home to H&H Furniture, the company has big plans for the vacant store space and it begins with affordability.
Ben Shoval, president of Shoval & Co., said that the downtown Sunnyside building had a real appeal to them, not only because of its location, but because the building could be purchased at a price that would allow them to keep rent low.
The building currently has two vacancies available - an 800 sq. ft. retail space and a 4,000 sq. ft. corner retail lot. These store locations are advertised at $600 and $2,000 per month, respectively.
"This is a prime location," Shoval said. "How many locations can say they have 10,000 cars drive by each day?"
Buildings near such high traffic roads can ask for high rents, but Shoval purchased the building with rent in mind. Similar locations along Yakima Valley Highway, he revealed, offer high traffic spaces, but can ask for 10 times more in rent.
Shoval & Co. was actively seeking a Lower Valley property that would allow them to invest in the community. They approached local Sunnyside business owners and started to form an idea of what residents wanted to see occur in the location.
"There is a huge outcry for revitalization of the downtown," said Magnus Altmayer, an analyst for Shoval & Co. "This is a step toward that."
New businesses interested in the property will find a number of valuable amenities in the two vacant spaces, where each offer lots of parking, office space and restrooms.
But the most attractive aspect of this location could be Shoval & Co.'s dedication to serving their tenants. Pam Turner, executive director of the Sunnyside Chamber of Commerce, said that Shoval & Co. was not just looking to purchase the building and rent it out. Rather, she revealed they are committed to taking true ownership of the building, restoring it and helping to bring the Sunnyside downtown back to life.
Vivian Perez, owner of Salinas Hair Fashions, and one of Shoval's tenants, agrees with Turner.
"Ben is really responsive to all my needs," she said.
Perez has operated her salon out of the same location for 12 years and says, "It's a good place to rent because we're right here, downtown."
More information on the building and space available for rent can be obtained by contacting Magnus Altmayer at 509-594-4139 or by e-mailing magnus.altmayer@shoval.com.
Meanwhile, Shoval & Co. is already interested in further investing in the Sunnyside community. The company is interested in purchasing additional downtown buildings and encourages potential sellers to contact real estate broker Tom Dekker from Timmerman's Real Estate at 509-840-0941.