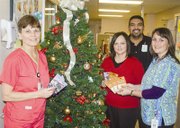 Over the past four Christmas seasons combined, including this one, staff at Sunnyside Community Hospital have adopted nearly 100 needy families during the holidays.
Sergio Tovar is the hospital's director of social services, and he says the program has been going on for several years, long before he started work there six years ago.
He said the families and their needs are made known through either the school district or through families who fill out an application while at the hospital.
Tovar said there are usually far more applications than hospital staff can accomodate. For example, this Christmas the hospital staff will adopt 17 families at Christmas...but there are at least 50 more who have sought assistance.
Tovar explains it is a completely volunteer program at the hospital when it comes to adopting families. Each department at the hospital generally chooses anywhere from one to four families each Christmas.
Once a family is chosen, usually shortly after Thanksgiving, Tovar says the family is first contacted to confirm they are interested in receiving the help as an adopted family.
He said the families provide employees with a general sense of their greatest needs.
This year, for example, Sunnyside Community Hospital employees are helping families with needs ranging from coats to food to hygiene supplies.
"The staff also goes out of their way to give the children some gifts," Tovar added.
The aim, he says, is to get the gifts to each family by Christmas.
The fact that the adopt-a-family program has been going strong for so many years is a tribute to the hospital's employees, Tovar says.
"We're grateful that we're employed and have good jobs," Tovar said. "There are other people less fortunate and the employees are sympathetic to that."