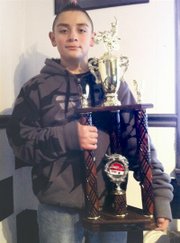 Harrison Middle School sixth grader Jaime Alvarez Jr. loves racing dirt bikes. And, he's pretty darn good at it. He recently earned second place honors in the Black Widow Motocross Championship Series 85cc class for 9-11 year old beginners at Horn Rapids Motosports Complex.
He has been riding since he was 5-years-old and his family shares a passion for dirt bikes, so it was only natural the daredevil took up racing competitively. He was 11-years-old at the beginning of the motocross season. He's now 12.
Alvarez's father said the sport can be costly, but the family's involvement makes it worthwhile.
This past year was the first year the boy went all out for an entire season.
"We wanted to see how well he would perform in a series," said the proud father.
The younger Alvarez said he raced in a total of eight "rounds" of the 10-round series. He won nine races, earning 10 points for each victory. His overall points total was 167, just 10 points back of the series winner.
He said there are two races in each round, therefore a racer can earn up to 20 points on race day.
His father said, "A lot of people don't understand our passion for the sport. They think motocross is easy, but it requires a lot of athleticism...there's a lot to racing other than the ability to go fast."
Alvarez Jr. concurred, stating he has countered negative responses by encouraging his naysayers to pick up a bike and try it.
Although the youngster has earned his share of bumps and battle scars along the way, he said he finds the sport exhilarating.
Because motocross can be costly, with expenses for protective gear as well as the motorcycle, Alvarez Jr. has several local sponsors, including Sunnyside Les Schwab Tires, Oscar Galvan of Fred's Barber Shop, Mower's Edge Landscaping and his parents.
Alvarez Sr. said, "We can't forget my wife, Lucy."
The younger Alvarez also gives credit to God for helping him through the season. "The Lord keeps me safe when I race," he said.
The season ended in late November and an awards banquet was held at the beginning of this month.
As for next season, Alvarez Jr. will compete in the 85cc schoolboy 12-15 year old division.
The youngster is already anxious for the season to begin. "I am trying to get out with the 'big dogs' next year and I'm looking forward to seeing how well I perform against the older racers," he said.
Alvarez Sr. said the youngster will in 2012 begin racing a 125cc motorcycle. "For now, he is just getting experience," he said of his son's efforts on the track.