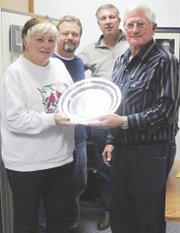 When Amber Hansen first began working for the Port of Sunnyside, she was the lone administrative employee and her office was at Sunnyside city hall.
A lot has changed in 20 years, according to Port of Sunnyside Property Development and Project Manager Jay Hester.
Last week he and the rest of the staff recognized Hansen for two decades of service to the Port of Sunnyside.
"Amber was the auditor and the port's manager," Hester said of Hansen's beginnings.
A year after she began working for the port, Valley Processing and Johnson Fruit were brought into the port's industrial wastewater system. Property owned by the port totaled just more than 500 acres at the time.
In 1996 the Port of Sunnyside moved its office to its current location on South Seventh Street.
Hester said Hansen has seen several multi-million dollar projects completed, including expansions of Darigold and the Port of Sunnyside industrial wastewater treatment plant.
The treatment plant was processing about 25 million cubic feet of water annually in 1990 and now processes approximately 43 million cubic feet of wastewater each year.
By the year 2000, the port served more than 45 companies, and has continued to grow from there, according to Hester.
"Hansen has been a real positive force behind the industrial business parks as well," said Hester. Included are Golob Landing and the new industrial rail park.
There are now 16 full time employees with the port, which includes eight administrative staff members.
Hansen is an advocate for the community, as well as for economic development and tourism. She was instrumental in volunteering staff and resources in sponsoring the annual Sunshine Days Car show.
In 2008, Hansen's title of Port Manager changed to Executive Director.
Hansen was presented an engraved pewter platter in celebration of her 20th anniversary of employment and in recognition of her passion and dedication to the Port of Sunnyside.