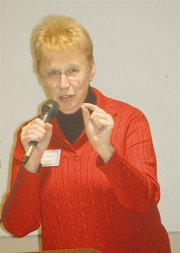 PROSSER - Lynn Franz joked that in middle school she was 5-8 and weighed just 98 lbs. She was able to share a laugh about her attempts as a girl to plump up her image with the Lower Valley Christian Women's Connection this past Tuesday, during a luncheon meeting.
But her brief comments took on a more serious tone when she discussed the many times God has come through and blessed her - both in meeting her needs and in bringing her family together.
Franz, a retired school teacher who lives in Hermiston, Ore., shared how the ideal of marital bliss was shattered to the point that her husband eventually separated from her.
She wouldn't go into detail, but noted that a family incident many years earlier eventually caused her husband to seek a separation.
During those three years apart, Franz said she learned how to transform four words that had harmed her life and marriage.
"If you're living for yourself you have pain, fear, hostility and guilt," Franz said. "But when you're living for Christ there's purpose, peace, forgiveness and understanding."
She says the transformation in those four areas helped her to "begin to know God on a new level."
While at a Christian conference, Franz said God used a lesson illustration to teach her there was still time to re-unite with her husband.
Franz described a story that was told at the conference about people who were rafting and became stuck. "The only way out is to get back in the water," Franz recalled of the illustration.
In regards to her own life and marriage, the illustration helped show her the need to give her marriage another try.
It was the next day, she recalled, when her husband called her seeking to "come home."
She says it's because of God that her marriage has been able to overcome struggles.
Franz says that doesn't mean it's "happily ever after" with her husband in their life together again. But it does mean they have new attitudes to live by in living for Jesus and transforming those four simple words of pain, fear, hostility and guilt.