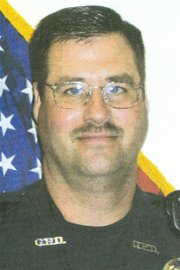 GRANDVIEW - The Grandview Police Department honored three of its own as Officer of the Year, Reserve Officer of the Year and Dispatcher of the Year at an awards banquet held last week.
Those honored were selected by their peers.
Robert Colley, who has been with the Grandview Police Department since 2006, was honored for the first time as the department's Officer of the Year. Colley has worked as a police officer for the city of Goldendale and has spent time as a reserve officer for the Sunnyside Police Department.
"He does a great job," Grandview Police Chief Dave Charvet said. "He's a good guy, everybody just loves him."
Colley is a student resource officer attached to the Grandview School District. Charvet said Colley has earned the respect of the students and the teachers.
"He was chosen because of the quality of work he produces, both at the police department and at the schools. He has such a commitment to work. He will drop anything on a dime to help out in any situation."
Charvet said Colley single-handily arrested a murder suspect earlier this year on the pathway that runs along Yakima Valley Highway between Sunnyside and Grandview.
Gary Barnett was honored by the Grandview Police Department as its Reserve Officer of the Year.
Charvet said Barnett has been with the department since 2001 and has received this award several times in his tenure with the department.
"If he's not working at Sunnyside Valley Irrigation District then you can find him here," Charvet said.
He added that Barnett is very dependable and is willing to come on duty at a moment's notice.
"We appreciate his hard work, his ethics and his dedication," Charvet said. "He spends a lot of time at the office."
Barnett, who is a volunteer and doesn't get paid, is a fully-commissioned officer when he's on duty. He has logged 359 volunteer hours this year alone.
"He's easy going and very easy to talk to," Charvet added. "He has a calm head on his shoulders and can go into a situation and diffuse it. He has a calming effect on people."
Christine Boast has been with the Grandview Police Department since 1997 and was honored last week as the Dispatcher of the Year.
"She does everything," Charvet said.
He said Boast takes care of the reception area, does bookkeeping work, does filing and performs case entry, as well. She also multi-tasks by tracking all radio transmissions.
"She's a life line to all the officers on the streets," Charvet said.
He said while in other police departments there are multiple people doing a single job, Boast is just one person doing several jobs.
"She was chosen by her peers because of the quality of work she did this year by assisting everybody in the department," Charvet said. "They're (dispatchers) are the life blood of the whole operation."