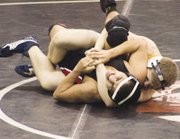 The Sunnyside Grizzlies again made it look easy as they dismantled league foe Southridge 74-6 in a home wrestling match last night, Thursday.
In three league matches this season, Sunnyside has outscored its opponents 207-21.
Last night was the Grizzlies' best showing yet.
"We were only 10 points away from a perfect match," said Sunnyside Coach George Paulus.
The rout was on early against the Suns, as Jesse Barajas (103 lbs.) and Santos Guerrero (112 lbs.) received forfeits for Sunnyside to get the evening started.
Nathan Gonzalez (119 lbs.) followed for the Grizzlies with a pin in 3:46 over James Perez. Daniel Guillen (125 lbs.) then pinned Southridge's Jacob Norton in 3:30 and Isaac Meza received a forfeit for Sunnyside at 130 lbs. The Grizzlies received a fourth forfeit when the Suns ceded the 135-lb. match to Isidro Ramirez.
In the closest match of the night, Emmanuel Tejeda (140 lbs.) prevailed 6-5 over Southridge's Connor Rosane. After Sunnyside's David Vidales won the 145-lb. match handily with a pin over Will McNamara in 5:47, the Suns experienced their only success of the night at 152 lbs. when Andrew Godinez pinned Sunnyside's Miguel Madrigal in 1:23.
But it was all Grizzlies, all the time, from there as Josh Romero (160 lbs.) helped the home team rebound with a 19-4 win over Southridge's Kevin Del Angel. Lupe Mendoza (171 lbs.) followed up with a pin of the Suns' Bryce Overholt in 3:17.
Sunnyside closed out the match with three more pins to make it seven on the night. At 189 lbs., the Grizzlies' Miguel Guzman pinned Randy Harris in 5:25 and Austin Carmen (215 lbs.) pinned Southridge's Julio Aleman at 3:26. Adam Peters (285 lbs.) finished up the match for Sunnyside with a pin over Matt Gibson in 3:41.
Noting that several of Sunnyside's pins came in the final minute of regulation, Paulus praised his team's persistance. Vidales' match, for example, actually saw the Southridge competitor leading late 9-6 before the Grizzly took him down and pinned him.
"They have a will to win," Paulus said of his athletes. "And it comes down to conditioning. We appeared to be in a lot better condition (than Southridge) and we were able to wrestle strong." The coach noted that, like boxing, wrestling is a sport that when an athlete gets tired their mind gets tired and they make mistakes. "A person in better shape thinks clearer during the critical points of the match," he said.
Sunnyside travels to Yakima tomorrow, Saturday, to compete in the 20th annual SunDome Mat Classic. "The bottom line is that we're trying to get some good, competitive matches," Paulus said.