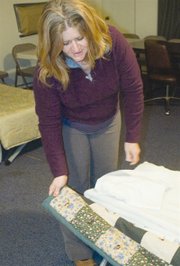 Two homeless shelters in Sunnyside are now open to provide services, but organizers are still looking for more volunteers to help man them.
A women's and children's shelter is available at 1108 E. Lincoln Avenue and a shelter for men is available at 321 S. Eighth Street.
"They are nice, warm places," said Paula Passmore, a volunteer at the women's shelter.
Check-in time at both shelters is from 6 to 6:45 p.m. each night of the week. After check-in the clients are fed and then given a warm bed to sleep in. Dinner varies, but all of the food is donated by area restaurants. Those who frequent the two Sunnyside homeless shelters usually feast on Mexican or Italian food. Some nights a hearty soup is served.
The women's shelter opened on Nov. 29 and so far only one person has used the facilities. The shelter can house up to 10 people.
Although the women's shelter hasn't been fully utilized, organizers say the volunteers have been faithful and show up every night to see if someone will want to use the shelter. Two volunteers are required to stay the night when someone is using the shelter.
The men's shelter has been used more than the women's shelter since it opened on Dec. 1, but volunteers are in need.
"We don't have enough volunteers that are willing to stay overnight," said Elizabeth Knowles, Director of the Sunrise Outreach Center's Lower Valley office.
The shelter has been used but only one guest has stayed at one time.
"We're trying to coax them in," Knowles said of Sunnyside's homeless. "We know they're out there."
Knowles said some people's hesitation boils down to a trust issue. She said some shelters make the guests attend a religious service to receive the benefits of the shelter. In Sunnyside, that's not the case.
"The shelters are in churches but there are no strings attached," Knowles said. "There is no service attached to the shelters. If they want to talk about the Lord, we will, but it's not necessary."
The men's shelter hosts homeless assistance appointments every Wednesday, from noon to 1 p.m. Knowles said people can also donate food, blankets and personal hygiene items at this time, as well. The assistance appointments allow people with Sunrise Outreach Center to put the homeless in contact with the proper agencies that might be able to help them.
But the most pressing issue is volunteers to help man the shelters, said Knowles. To volunteer people can call Rev. Carol Stickney at 439-0424 for the women's shelter. To help with the men's shelter call Joe Knowles at 837-8372,
Each volunteer must be trained before they can help in the shelters. Volunteer training is held every Wednesday at the men's shelter, beginning at 6:30 p.m. A training session on Saturdays starts at 4 p.m. The class takes about an hour and a half to complete.