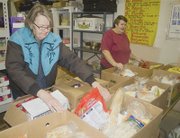 State and federal dollars help more than 400 food banks in Washington, including two in Sunnyside.
The Sunnyide Ministerial Association and Adventist Community Services food banks are both recipients of dollars from food assistance programs administered by the state's Department of Agriculture.
In addition, the state's ag department is encouraging growers to donate produce to food banks.
"The agriculture community continues to be very generous in its support to food programs," said WSDA Director Dan Newhouse. "As our families gather during the holiday season, we must remember our neighbors - especially the children and seniors - who worry about where they'll find their next meal."
Newhouse, himself a farmer from Sunnyside, and his department assumed responsibility this year for state and federal funds that support Washington's food banks.
Newhouse's office notes that food banks across Washington are managing additional demand for services as more families seek assistance during the worst economic downturn in 70 years. Job growth remains stubbornly slow in many areas and local nutrition programs are the lifeline that help put food on the table.
For the food bank administered by the Sunnyside Seventh Day Adventist Church, about $10,000 is received each year between federal and state funds.
Larry Mays is the pastor for the Seventh Day Adventist Church in Sunnyside and he says without Newhouse's department sending state and federal money the food bank would be reliant on donations from the community.
The community support, such as $1,400 raised during a community Thanksgiving program, is a help for both the Adventist services and ministerial food banks.
In fact, Mays said it's important for food banks in Sunnyside and elsewhere to have a balance of funds in their respective accounts.
"The way it works is that food banks have to spend the money before they can get reimbursed," Mays explained. "We have to turn our receipts in and then they reimburse us up to a certain allocation."
Mays also noted the generosity of farmers donating produce for food banks, describing a gleaning program that some areas have.
The state and federal funds come at a key time for food banks here and elsewhere, as according to Newhouse's office one in seven Washington families is experiencing hunger as the global economic downturn drags on.
The most recent USDA Household Food Security report shows that 14 percent of households in Washington state are unsure of how they will put enough food on the table, compared to 10 percent just three years ago.
John Jacobs heads up the Sunnyside Ministerial Association's food bank and he says food is also received from Northwest Harvest. Further, about $11,000 each year in federal money from FEMA goes to buy groceries for the food bank, Jacobs said.
The funds are crucial to sustain the food banks in helping them consistently provide for those in need.
"Without it we couldn't make it," says Melba Hirsch, who recently retired as a treasurer for the Adventist food bank.